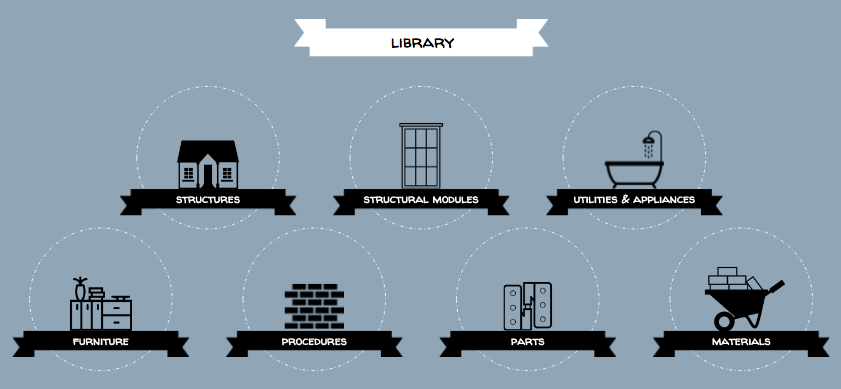 A library of modules that can be used to design a variety of structures.
This library is composed of several collections. For detailed instructions on how to use and contribute to the library, please visit the Use section.
A collection of sample structures—such as greenhouses, studios, and homes—designed with the Structural Modules collection.
Its purpose is to showcase applications of the Structural Modules collection and demonstrate how the different parts can be put together to form a building. Please note that, although they were designed to be "buildable," these conceptual designs have not been prototyped and tested (unless otherwise noted).
A collection of wall, door, window and roof modules.
This collection can be downloaded as a single file, imported into Sweet Home 3D, and then used to design various types of structures. In addition to the installable library, source files for each 3D model (the technical designs of modules with labeled parts and accurate dimensions) can also be downloaded from each module's page.
A collection of 3D models, technical drawings and instructions for a variety of utilities and appliances.
It includes things such as PV electricity system, hydronic heated floor, hydronic control panel, pellet stove, hot water heater, shower and sink modules, separating flush toilet, etc.
A collection of building procedures.
It contains components that—rather than being first built in a workshop and then installed on the building—are built directly on site. It includes procedures such as foundation, brick walls and triangle sections.
A collection of furniture pieces.
It includes bookshelves, tables, benches, chairs, etc.
A collection of parts used to design structural modules.
It includes 3D models for things such as dimensional lumber, wood panels, glazing, pipes, hardware, etc.
A collection of formulas and fabrication procedures for materials.
It includes recipes for compressed earth blocks, concrete, stucco, paint, etc.