3D Printer Construction Set
April 29, 2017 | Factor e Farm – Maysville, MO (USA)
Build Yourself. Build Your World.
The Open Source Ecology 3D Printer Construction Set Workshop is an immersion experience where you can build your own 3D printer, in one day. You have the option to take the 3D printer – called D3D – home with you.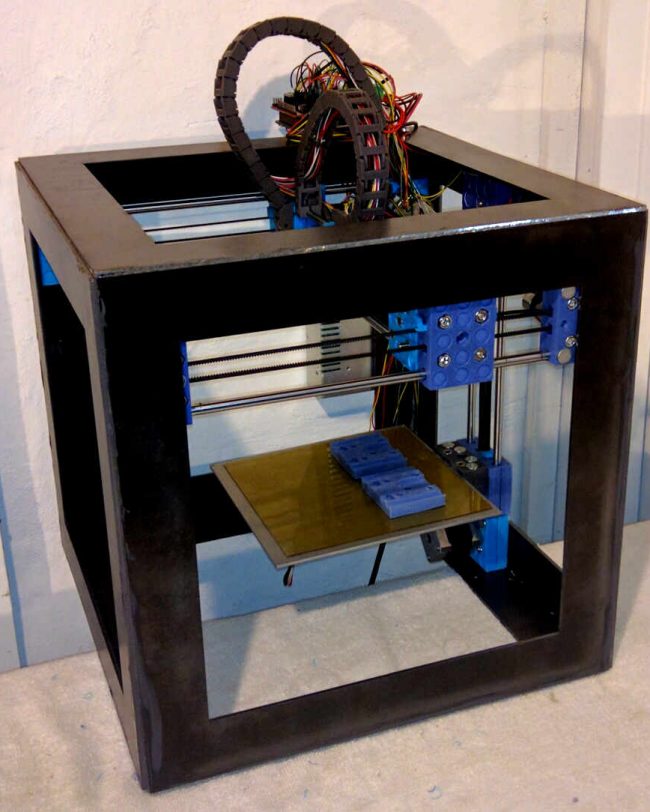 The 3D Printer Construction Set is a set of building blocks that allows you to build a 3D printer of any size – and also – if the parts are enlarged but the same design principles are used – to build other machines including a CNC Torch Table, a CNC Router, and a CNC Laser Cutter.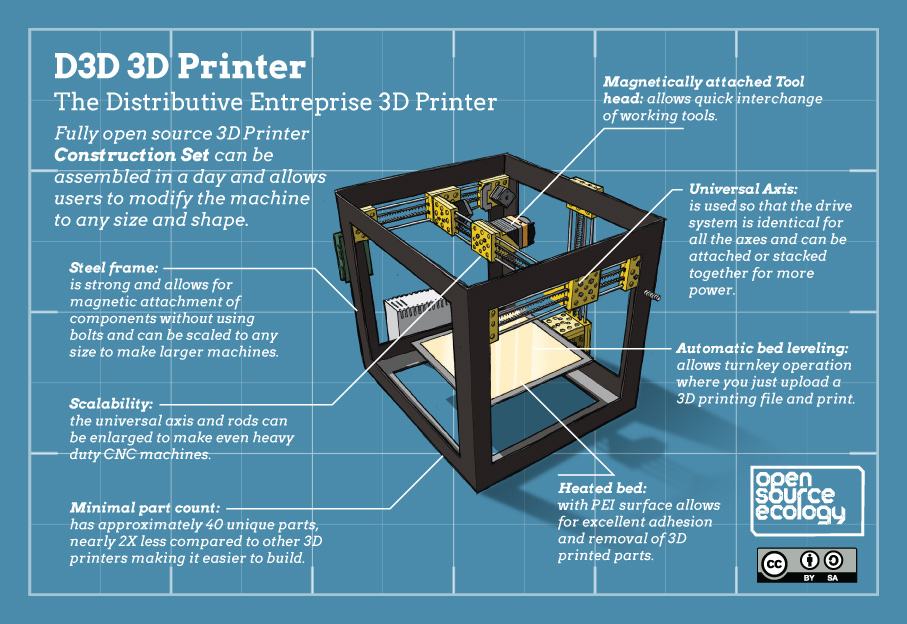 Just another 3D printer?
While there are many different 3D printers out there – and they are becoming low cost and accessible – we felt that they are still complex enough to be beyond the reach of the average builder. To lower the barriers to 3D printing – and to multiaxis CNC machines in general – we decided to design the simplest possible 3D Printer – in the world. We have gotten the unique parts count down to about 40 – which is about half that of an average printer. Moreover, we are using magnetic connectors to attach the axes, tool head, end stops, power supply, the controller, and even the cable chain – making this system like a Lego set for rapid building of different machines. Our construction set approach allows us to stack, multiply, scale, piggyback, and otherwise reconfigure components for maximum flexibility. Our steel frame is heavy duty, so our system is more than a toy. We are designing a system intended to be scaled for industrial applications – consistent with our work on the Global Village Construction Set.
In this workshop, you will have an option to build 3 different 3D printer sizes:
16″ frame, 8″x8″ print bed, expandable up to 12″x12″
12″ frame, 8″x8″ print bed
8″ frame, 5″x5″ print bed
The 16″ frame version is the one shown in the video.
To create a Construction Set – we designed a small set of identical parts that can be reconfigured. The core part is the axis module – with the same axis module used in the x,y, and z directions – which is used to create the x-y-z motion system associated with an automated machine.
In this workshop, we are using 8 mm rods for the universal axis (about 5/16″) – but the rods/sizes can be enlarged – such as 1″ rods or even 2″ rods for heavier duty applications. The same axes as used above can be joined, lengthened, or stacked to build a much larger machine – such as this 4'x8'x1′ CNC Torch Table: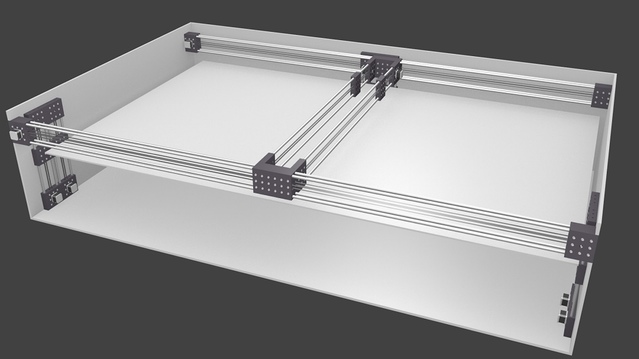 Note how the basic axis unit and its ability to connect to other axis units allows for a wide range of design variations, putting the ability to design CNC machines within the hands of ordinary people. Depending on the tool head that is used – the machine can have the functionality of the corresponding tool head – whether a 3D printer extruder, a router, a laser cutter, a cutting torch, or many others.
Parts can in principlebe stacked in multiples, as in this 9-headed production 3D Printer shown printing more parts for the axis unit:

The beauty lies in an absolute minimum number of parts that are used to build an infinite variety of CNC machines – depending on size, axis configuration, and tool heads.
This workshop builds upon OSE's Extreme Manufacturing approach of rapid building with multiple teams working in parallel on modular components. By simplifying the design and streamlining the build with digitally-fabricated, open source parts – people are now able to build a high quality 3D printer in record time at low cost.
We are also developing an open source enterprise model for how to run such workshops anywhere in the world. We are publishing our enterprise model openly, with all supporting information that helps people in a successful startup – without reinventing the wheel.
This workshop is intended for those people who don't have the time to build a printer themselves – or who don't think they have the skills to build one – but who are interested in an extremely streamlined and efficient process. The intended audience is also anyone who would consider running Extreme Manufacturing 3D printer workshops as part of their livelihood.
Participants will gain an appreciation for the productivity that happens when we break down the design into clear modules, such that multiple components can be assembled rapidly or in parallel based on clearly defined boundaries. This is an application of OSE's radical modularity, just like we are applying to the heavy machines of the Global Village Construction Set:
In this one day workshop – the participants will walk away with a basic understanding of how to design and build their own 3D printer – as well as other machine variations – using the OSE 3D Printer Construction Set, including software setup. Individuals who buy the materials package walk out with their own 3D printer. We estimate that the entire build should take 4-8 hours with one person – without requiring technical savvy from the participant.
D3D 3D Printer – Product Specifications
16″ Version Specifications:
Mild steel frame, 12 gauge, 16″ cube
8″x8″ print area (8″ build height for 16″ frame)
Bed is upgradeable up to 12″x12″
PEI build surface
Automatic bed leveling using 4mm inductive sensor and 9 point probing default
30A, 12V power supply
RAMPS 1.4 controller
Marlin firmware
aluminum heated bed
magnetic quick attach tool mount
cable routing using cable chains
magnetic attachment of axes, controller, power supply, and cable chain
40 unique part count, and only 3 bolt types
3D printed carriage plastic pieces
Nema 17 motors, 72 oz in, except for dual Y axis with 36 oz in motors
XYYZ motion configuration – with dual Y axis running from the extruder stepper driver
Stationary bed for purposes of printing tall, thin objects – XY motion is in the gantry (bed moves only in Z direction)
Cantilevered bed support with one Z motor
GT2, 6mm timing belt drive
12 mm pulleys
1.75 mm direct drive extruder, .4 mm
Prints PLA and ABS
1.8 degree stepper motors, 16 microstepping via RAMPS
Universal mount accepts a modified Prusa i3 MK 2 extruder with E3D nozzle, upgradeable to Volcano nozzle
Frame is easily encloseable to create a heated build chamber
100% open source hardware and software, CC-BY-SA 4.0, GPL, OSHWA compliant (applying for Open Source Hardware Association Certification)
CAD files available in FreeCAD
12″ Version Specifications:
Same as above, except:
Frame is a 12″ cube
8″x8″ heated bed has 6″ build height
Not upgradeable to 12″x12″ print area
D3D Mini Specifications
Same as 16″ Version above – except:
Frame is an 8″ cube
Build surface is 5″x5″, 5″ tall
Not upgradeable to larger print area
Build volume is not as easily encloseable to create a heated build chamber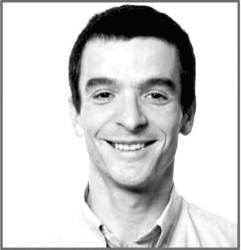 Marcin Jakubowski – Marcin was trained as a fusion physicist. He left academia right after finishing his Ph.D. to start a farm – in Missouri. For the last 7 years, he has been working on the Global Village Construction Set – a set of enabling tools and machines for building regenerative infrastructures. Marcin is passionate about creating the Open Source Economy – a new operating system for Earth. See Marcin's bio.
LEARNING OUTCOMES
3D Printing
Basic working principles of a 3D printer
Different types of 3D printer applications
How to build a 3D printer
How to calibrate a 3D printer
How to run software to control a 3D printer
How to find objects for printing and how to design them yourself in FreeCAD
Collaborative Literacy
Basic principles of Open Source Ecology
The concept of Open Source Product Development (OSPD)
The meaning of Distributive Enterprise
Basic collaboration principles of open source projects
How to engage in a collaborative documentation process
The concept of module-based design
Distributive Enterprise
Business model for Distributive Enterprise
Extreme Manufacturing
The meaning of Viral Replicability Criteria
SCHEDULE
Note: schedule is being refined and may change slightly. The full program goes from 8 AM to 8 PM, though people can leave at 5 PM if they need to. We start at 8 sharp, so please arrive early.
8-9AM: OSE Introduction
9-Noon: Morning Build Session
Lunch
1-4: Afternoon Build Session
4-5: Pre-Power Check, Calibration, and First Print
5-6: Dinner
6-8: Learning Session, Review, and Closure Discussion
LOGISTICS
Workshop fee includes workshop tuition only.
Accommodations
If you are traveling – you may secure a hotel in Cameron, Missouri (15 miles away). Please note that there is no public transportation between Cameron and Factor e Farm and that we cannot pick you up or drop you off on a daily basis during the workshop. Car rentals are available at the KCI airport.
We have a shared-room dorm on site – HabLab. There is no extra cost for staying at the dorm and spots are filled on a "first come, first served" basis. Please note that this is a very rudimentary earth building and our accommodations are rough. The dorm rooms may be noisy due to late night conversations by participants. We do not have housekeeping, so you would be expected to clean up after yourself. Factor e Farm is an experimental facility that is permanently under construction, so please gauge your expectations accordingly. If you want a more comfortable stay, we recommend that you stay in a hotel.
We also have primitive camping on site which includes a composting toilet. Showers and a bathroom are located in the HabLab and there is a kitchen for basic food preparation.
Transportation
The only transportation to our site is by car, as there is no public transportation in the area. The nearest airport is Kansas City International (MCI), about 1:15 hours away from Factor e Farm. FeF is located in a rural zone and there is no public transportation outside of long-distance buses stopping in Cameron. We do not offer airport transportation, though we may be able to coordinate a ride with other workshop participants and collaborators. Car rentals are available at the KCI airport.
Meals
For one day workshops, OSE does not provide catering. Participants may use our kitchen to cook and prepare food. Some snacks will be available. Participants are encouraged to coordinate with one another.
For multi-day workshops, we typically have dinner catered by local restaurants. However, since we're in an isolated area, the number of restaurants available and the quality of the food may not be what you're used to. There are only 3 restaurants in the area that do catering: a Mexican restaurant, a Chinese restaurant, and a Subway. Another option is for us to provide the ingredients and allow participants to self-organize dinner preparation (which means some of you would volunteer to cook for the group). Upon registration, we survey the group to find out what is the preferred option.
What to Pack
You are welcome to bring your own tools if you wish to – there is no such thing as too many tools. We will have all the necessary tools on site. For machine builds and house construction, we have gloves, protective eyewear, and hard hats. If possible, bring steel-toe boots – as that's the safest footwear for any workshop. If not, please bring the sturdiest boots/shoes you have.
This being Missouri, the weather is highly unpredictable. It could be hot, it could be cold, it could rain – often all 3 on the same day. Bring clothes for all eventualities and weather. It can also get quite muddy when it rains, so sturdy boots are recommended.
If you plan to stay on site, please also bring a sleeping bag and a bath towel. If you're staying in the HabLab, we have fitted sheets, pillows and pillow cases available – but you may want to bring your own pillow if that's something that is important to you. If you're camping, please pack everything you'd normally pack for a camping trip.
REGISTRATION
Early Bird Registration and Regular admission are available. See below for prices and Early Bird deadline.
2-for-1 Discount: bring a family member or friend with you for free (friend or family member assists you and does NOT take a second printer home).
Group Rate: Email us if you would like to bring a group.
True Fans of OSE: As supporting members of OSE, True Fans receive a 25% discount on all of our workshops if they have signed up as True Fan suporters 6 months or longer ago. Email us for redemption details. You can sign up as a True Fan now to become eligible for the True Fans discount on future workshops.
Sponsor another participant or Donate to OSE: We are a nonprofit organization with 501(c)3 status. You can make tax-deductible contributions to us. Sponsor $599 to fund attendance of someone who is on the waiting list for financial assistance by making a donation.
Food: Workshop fee does not include lunch. Subway and a grocery store are available a mile away, and we encourage participants to organize food in the HabLab kitchen.
Tools: OSE provides assembly tool set (OSE keeps the tool set).
Payment Options: PayPal, Credit Card, Dwolla, Bitcoin, Check, Money Order, or Cash
Registration for the choices above is found on Eventbrite, but Eventbrite accepts only PayPal or Credit Card. If you would like to pay by other means you can select that option at Eventbrite, but then you have to submit your payment independently of Eventbrite. We accept Dwolla, Bitcoin, Check, Money Order, or Cash. Your registration is complete upon receipt of payment. If you pay with Dwolla – Dwolla charges lower transaction costs than PayPal. If you are paying by Dwolla, register at Eventbrite and select the Dwolla option, then pay independently via Dwolla (Dwolla is not currently integrated into Eventbrite). Use Open Source Ecology or ops@opensourceecology.org as the Dwolla recipient. Bitcoin is a decentralized payment system. You can pay via a bitcoin amount translated by the current bitcoin exchange rate on the day that you register. OSE's Bitcoin Address is 166yC48RakrZdtsBj36vY9q29CpzknHbxY. If you are paying by check, please make checks payable to Open Source Ecology. Our mailing address is OSE, 909 SW Willow Rd, Maysville, MO 64469. For mailings, please write "3D Printer Workshop" in the memo line on your check.
Cancellation Policy:
If you need to cancel for any reason, we will be happy to (a) transfer you credit towards another workshop in the future; (b) substitute the name on your ticket and have a friend take your place.
Registration Cost
The Assistant Registration DOES NOT include taking a 3D printer home with you – but just assisting another builder in building a complete 3D printer from scratch. This is for individuals who want only to experience the build process. The Builder Registration includes one of the 3 kits to take home with you.
EARLY BIRD ADMISSION – ends Saturday, April 15, 2017 at 9 PM CDT USA Time.
$149 – Assistant Registration – does not include a printer kit
$649 – D3D Mini – Builder Registration – includes 8″-frame 3D printer kit
$699 – D3D – Builder Registration – includes 12″-frame 3D printer kit
$749 – D3D – Builder Registration – includes 16″-frame 3D printer kit
REGULAR ADMISSION
$199 – Assistant Registration – does not include a printer kit
$749 – D3D Mini – Builder Registrationin – includes 8″-frame 3D printer kit
$799 – D3D – Builder Registration – includes 12″-frame 3D printer kit
$849 – D3D – Builder Registration – includes 16″-frame 3D printer kit
For more information, email info at opensourceecology dot org.
Registration on Eventbrite
Please use the the Eventbrite form below to pay with PayPal/credit card. Eventbrite charges a small fee on top of the ticket price.