Aquaponic Greenhouse Workshop 1 (November 2015). Photos by Open Source Ecology, Joshua Langevin, and Reid da Silva.
Aquaponic Greenhouse Workshop 2
November 11-15, 2016 | Factor e Farm – Maysville, MO (USA)
The Aquaponic Greenhouse Workshop is a 5-day immersion experience during which we will build our second aquaponic greenhouse that incorporates everything we have learned during and since the first 2015 build. The overall workshop is broken up into two sessions and participants can choose to participate in either or both. In the first session, we will build the greenhouse structure using polycarbonate double-wall glazing, with ponds and hydronic heating, at a cost of $6000 – 3x lower than industry standards. In the second session, we will build the biological modules for an integrated greenhouse with ecological pest management.
In this workshop, we will continue to explore our Extreme Manufacturing approach – pushing the limits of rapid building together with diverse ecological integration. Participants will gain an appreciation for the level of productivity possible with modular design. The multiple components – both mechanical and biological – can be assembled rapidly, by multiple teams working together, from open source blueprints, like IKEA furniture.
We are aiming to produce the most integrated yet practical, replicable and affordable greenhouse in the world!
The greenhouse structure consists of roof, wall and door panels, with vent windows which can be opened. The glazing material is double-wall polycarbonate. The building also includes an in-ground fish pond, heated by hydronic tubes, so participants can learn about effective in-ground heating systems.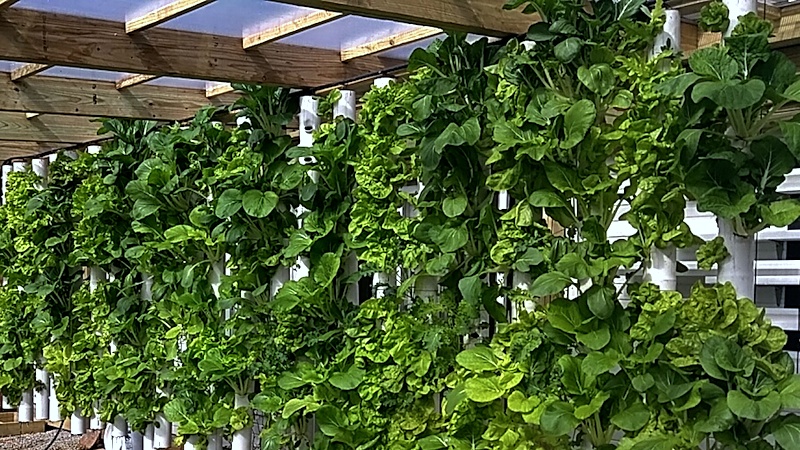 The biological systems that contribute to a diet and are included in the build:
Grow beds for plants and fish: Plants are fed by the fish water. We will utilize sand beds, hanging towers with growing media, compost beds, and other growing tower systems.
Strawberry gutters: A small fruit that can be grown effectively in aquaponics, strawberries grow from ceiling-hung gutters.
Mushrooms: Oyster mushrooms are grown on straw in vertical towers consisting of stacked 5-gallon buckets. This produces 5 lb mushrooms per bucket or about 30 lb per tower per month – on a floor space of 1 square foot. This is an average of 1 lb of mushrooms per day from 1 square foot! The CO2 produced by mushroom respiration enhances plant growth in the greenhouse. 4 towers will provide 4 lbs of mushrooms per day which = 640 calories.
Chickens and redworms: Chickens provide eggs. If we set up redworm composting underneath them, how much of a chicken's diet can be provided from worms that feed on chicken droppings? 5 eggs from our 5-chicken cage = 400 calories.
Aerated compost tea: Biological pest control includes spraying compost tea – a brew of beneficial microbes, fungi and protozoa – on growing plants. We will build a 55 gallon compost tea maker in this workshop. Together with beneficial insects, banker plants that attract insects, companion plants and hedgehogs for slugs and snails, we will manage various pests without chemical sprays.
Biotope: This is planned for the future as an important addition to the ecology of housing, but will not be built during the workshop. It is a structure outside of the greenhouse that attracts beneficial animals: wasps, frogs, snakes, bats and bees. Bats eat large quantities of insects and deposit them for us in the form of a fertilizer: bat guano. The bees collect nectar from miles around. Using biological bee keeping methods (top bar hive), we can harvest honey by opening the beehive once per year. Average honey crop is 40 lb, so about 1/10 lb per day which = 150 calories per day! The other important factor about bees is that bee pollen, which is a superfood just like Spirulina, could also be collected.
Our system aims to produce 2850 calories per day from fish, chicken and mushrooms – not counting any of the vegetable crops – which is enough food for a complete diet for one person. This does not include any of the vegetables and fruits in the growing beds and towers! Combined with the systems outside the greenhouse – a chestnut grove, hazelnuts, edible landscape and outdoor raised beds – we can create a house that produces all the food its inhabitants need and as much as would be grown on an urban 1/4 acre lot.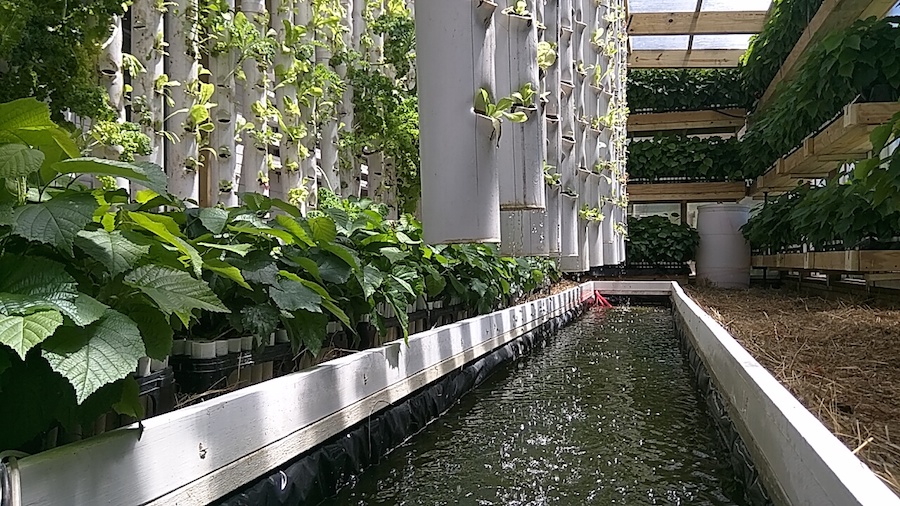 The goal of this integrated aquaponic greenhouse build is to demonstrate just how much can be produced by utilizing smart, affordable and practical design. We are optimizing for minimum inputs. What fraction of calories and what fraction of nutrition can a greenhouse provide in practice? And what about the practicalities of time and maintenance? If we limit allowable maintenance time to 15 minutes per person per day, can we achieve the full system as described? We'll engage in a 1 year long personal experiment to answer these and many other questions, recording progress and documenting challenges encountered, to determine practical limits and find out just how much is achievable.
Workshop immersion involves both concept and practice, and includes a crash course in carpentry skills. Participants are also introduced to the basic principles of collaborative literacy – how the collaborative mindset can be used to solve wicked problems.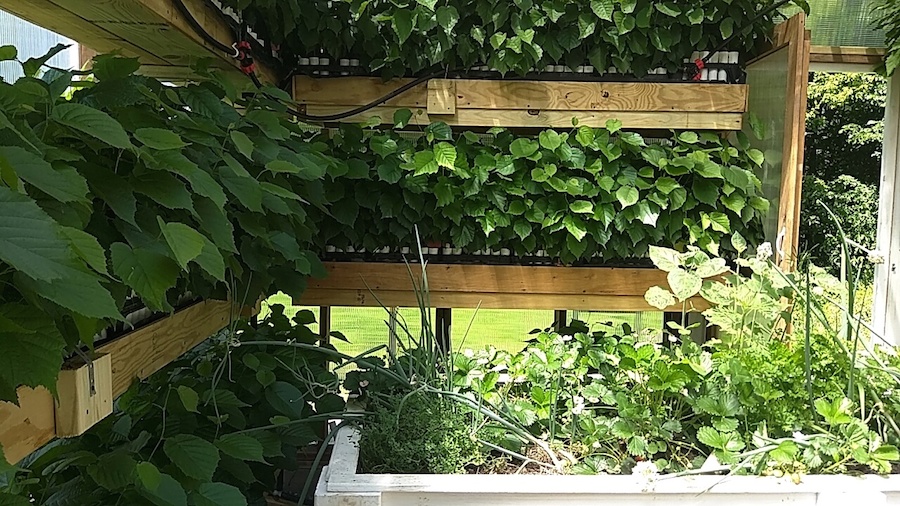 This workshop is intended for people interested in immersion, hands-on skills training and practical results. This immersion course may be especially useful to people who would like to master their own livelihood as responsible stewards of the land. We are also specifically seeking participants with an entrepreneurial mindset to expand open source aquaponics into the mainstream of home food production.
We are inviting those individuals who are interested in learning about aquaponics and those who are considering aquaponics greenhouses or local food production as a business. We are explicitly calling out social entrepreneurs interested in starting open source aquaponics enterprises, where the collaborative efforts of many enterprises contribute to a constantly improving enterprise ecosystem. Because the aquaponics greenhouse is complex in terms of many moving parts, we think that open source collaboration is necessary for the improvements needed to make ecological aquaponics systems robust and productive – while using integrated pest management and local resources as much as possible. To help spread knowledge of this work, we are also inviting dedicated documenters and videographers to participate in the event – email us to discuss the requirements.
Specifically, we have seen that our first 800 square foot greenhouse has plenty of space for 44 vertical towers – or space for about 1000 plants. Combined with the microgreens and sprouts, we think that this could provide a solid $2k of earnings potential such as in a Community Supported Agriculture (CSA) or market operation.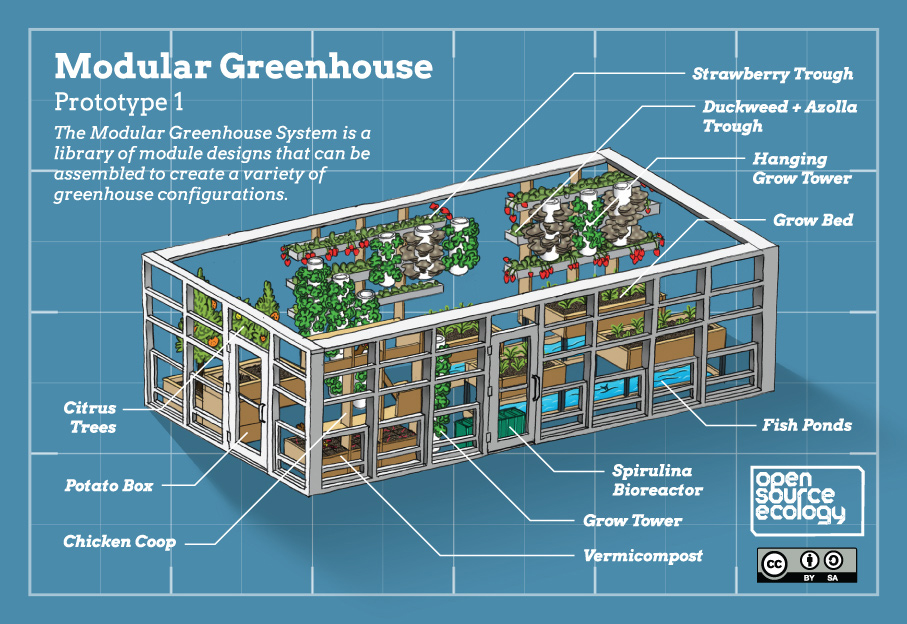 The overall workshop is designed for people interested in transitioning from Zero to Steward and Maker. We welcome both complete novices and those with experience, as those with experience will also learn a number of skills. As with most things in life, the most critical part is a willingness to learn.
There are 3 tracks offered in this workshop:
Full Workshop (Nov 11-15): Complete 5-day workshop – both the Structure and Biological Systems of the aquaponic greenhouse.
Aquaponic Greenhouse Structure (Nov 11-13): Extreme Build of a greenhouse with pond over a weekend.
Integrated Biological Systems (Nov 14-15): Build and install the biological systems: plants, fish, mushrooms, spirulina bioreactor, chickens, redworms, black soldier fly larvae, duckweed, and heat-producing compost, and compost tea production.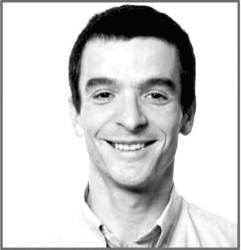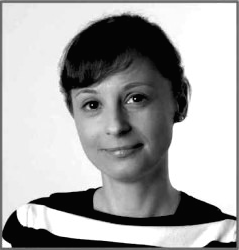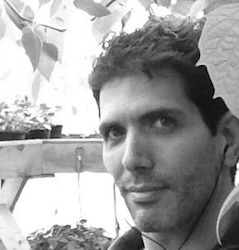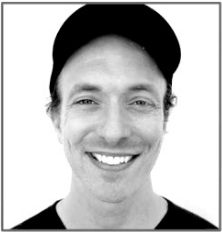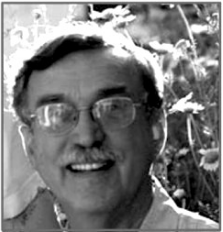 Marcin Jakubowski – Marcin was trained as a fusion physicist. He left academia right after finishing his Ph.D. to start a farm – in Missouri. For the last 7 years, he has been working on the Global Village Construction Set – a set of enabling tools and machines for building regenerative infrastructures. Marcin is passionate about creating the Open Source Economy – a new operating system for Earth. See Marcin's bio.
Catarina Mota – Catarina is an open source advocate. She founded the Open Building Institute, co-founded Open Materials (do-it-yourself smart materials) and AltLab (Lisbon's hackerspace). Previously, she co-chaired the Open Hardware Summit 2012, served on the board of directors of the Open Source Hardware Association, taught as an adjunct faculty member at ITP-NYU, and was a fellow of the National Science and Technology Foundation of Portugal. Catarina holds a Ph.D. in communication sciences and her research work focuses on the social impact of open and collaborative practices for the development of technologies. She is a founding member the Open Source Hardware Association and a TED fellow.
William Bombardier – Will's educational foundation of a B.S. in Aquatic Biology followed by a M.S. in Environmental Ecology perfectly suits his passion for designing, building and exploring aquaponics methods for the home grower. Will has spent the past five years designing, building and operating a fully integrated ecologically-based aquaponics system in the suburbs of the Twin Cities. Will is also interested in moving open-source ideology forward for collaborative vs. competitive growth and exchange. www.opensourceaquaponics.com or www.facebook.com/opensourceaquaponics
Peter McCoy – A self-taught mycologist with over 14 years of accumulated study and experience, Peter is an original founder ofRadical Mycology, a grassroots organization and open-source movement that teaches the skills needed to work with mushrooms and other fungi for personal, societal, and ecological resilience. Peter is the lead cultivation expert for the Amazon Mycorenewal Project and Open Source Ecology. Apart from his work with fungi, he is also a community organizer, street medic, zinester, artist, musician, lecturer, and teacher.
Ron Whitehurst (via teleconference) – Ron is a pioneer in Ecologically-Based Pest Management, and a principal at Rincon-Vitova Insectaries. Rincon-Vitova has pioneered the use of biological controls in the 1960s, and remains a leader in the field. Ron has been involved with organic methods for almost 30 years, and his book, Reading Weeds as Soil Indicators is a database in need of some updating but still ahead of its time. Ron will cover the basic principles of integrated pest management (IPM), and the specific best practices for pest management for the 15 crops of OSE's aquaponic greenhouse.
LEARNING OUTCOMES
Modular Greenhouse Design and Build
How to design and build a modular greenhouse
Basic construction skills and framing
Modular design and build of walls, roofs, windows, and doors
Building of in-ground pond
Greenhouse cost estimation, and how to build a modular greenhouse at 1/3 the cost of industry standards
Solar design, heating, lighting, and ventilation
Design and build of rainwater catchment system
Introduction to the Open Building Institute
Aquaponics and Living Systems Systems – Design and Build
Yield calculations of selected crops and relation to dietary needs
Design and install of hydronic heating for the fish system
Design and build of hanging and standing grow towers
Designing and build of sand beds, organoponic beds, and compost growing beds
Build of an aerated compost tea reactor and using soil food web theory and practice
Design and build of an aquaponics control panel and Internet of Things monitoring system
Design and build of a worm tower to produce worm castings and redworms for fish and chicken food
Design of an integrated chicken and redworm house that feeds the chickens and processes their waste
Basics of mushroom spawn production to achieve sterile culture in a low-tech environment
Oyster mushroom tower design and build
Design and build of aquaponic strawberries grown in a hanging gutter system
Design of tilapia rearing, growing, and harvesting system. Inoculation of ponds and starting of fish growing in tanks.
Preparing compost-based growing medium, seeding and planting of 15 crops
Integrated pest management design and install for the 15 crops of the greenhouse.
SCHEDULE
Please note that schedule is tentative and subject to change.
Session 1: Greenhouse Structure
Day 1: Modular Greenhouse Build: Wall Sections
8AM-9: OSE Introduction
9-10: Aquaponic Greenhouse Overview
10-12: Beginning of wall module carpentry lessons and building
Lunch
1-3: Continuing to build wall, door, and window modules. Begin installing wall Modules
3-3:30: Break
3:30-7: Finishing wall build
7: Dinner and discussion
Day 2 – Modular Greenhouse Build: Roof Sections
8 AM: Design and workflow presentation
8:30-12: Building and installing roof modules
Lunch
1-3: Afternoon build session
3-3:30: Break
3:30-7: Roof build completion
7: Dinner and discussion
Day 3 – Modular Greenhouse: Fish Tanks
8AM: Design and workflow presentation
8:30-12: Fish tank construction
Lunch
1-3: Afternoon build session
3-3:30: Break
3:30-7: Fish tank completion
7: Dinner and closing discussion
Session 2: Biological Systems
Learn how to build biological modules for an integrated Aquaponics Food and Heat Producing Greenhouse.
Day 1: Biological Systems: Grow Beds and Towers, Compost, Compost Tea, Soil Food Web, and Thermal Composting
8AM-9: OSE introduction
9-10: Aquaponic greenhouse Ecological Systems overview
10-12:

Grow beds build – organoponic, compost, hanging towers, and sand beds

Lunch
1-2: Soil Food Web and Compost Tea: build of 55 gallon aerated compost tea brewer
3-3:30: Break
3:30-7: Worm tower and strawberry trough build
7: Dinner and discussion
Day 2 – Biological Systems: Biological Pest Control, Automation and Monitoring, Mushroom Towers
8AM: Biological Pest Control
9-10:30: Planting crops and installing biological controls for 15 crops
10:30-12: Build of Aquaponics Control Panel and Remote Monitoring Systems
Lunch
1-3:

Build of chicken house with vermiposting

3-3:30: Break
3:30-7: Open source mushroom towers: from culturing the mycelium, to spawn generation, to a mushroom tower build
7: Dinner and closing discussion
LOGISTICS
Workshop fee includes workshop tuition only.
UPDATE: The HabLab is now full for this workshop.
Accommodations
Participants may secure a hotel in Cameron, Missouri (15 miles away). Please note that there is no public transportation between Cameron and Factor e Farm and that we cannot pick you up or drop you off on a daily basis during the workshop. Car rentals are available at the KCI airport.
We have 18 spots for participants who want to stay at the HabLab—our shared-room dorm. There is no extra cost for staying at the dorm and spots are filled on a "first come, first served" basis. Please note that this is a very rudimentary earth building and our accommodations are rough. The dorm rooms may be noisy due to late night conversations by participants. Factor e Farm is an experimental facility that is permanently under construction, so please gauge your expectations accordingly. If you want a more comfortable stay, we recommend that you stay in a hotel.
We also have primitive camping on site which includes a composting toilet. Showers and a bathroom are located in the HabLab and there is a kitchen for basic food preparation.
Transportation
The nearest airport is Kansas City International (MCI), about 1:15 hours away from Factor e Farm. FeF is located in a rural zone and there is no public transportation of any kind in the area. We can pick you up from the airport the day before the workshop and drop you off the day after. Car rentals are available at the KCI airport, if you'd rather not wait for pick up.
Since the round trip to the airport is 2:30 hours, we will pick up participants in groups. For example, if we have one flight arriving at 2 pm, another at 3 pm and another at 4pm, we'll pick up the whole group at 4 pm. The same applies to drop-offs the day after the workshop. The MCI airport is tiny and there isn't much to do there, but it has a few restaurants/cafes and quiet areas to rest.
To the extent that it's possible, we request that you try to schedule your flight arrival and departure times between mid morning and late afternoon. Everyone on site will be working hard and very early/late pick-ups and drop-offs can be quite challenging for an already sleep-deprived crew.
Meals
OBI and OSE will provide continental breakfast and dinner. For lunch, bring your own or bring some to share.
We will also try to provide fresh, organic vegetables from our farm. However, this may not be available at all times of the year as it depends largely on crop cycles and season.
We will organize trips to Cameron's food store (a Walmart) or you can coordinate with other participants to go on your own. There is also a small grocery store in Maysville, which is a short bike-ride away from FeF.
We typically have dinner catered by local restaurants. However, since we're in an isolated area, the number of restaurants available and the quality of the food may not be what you're used to. There are only 3 restaurants in the area that do catering: a Mexican restaurant, a Chinese restaurant, and a Subway. Another option is for us to provide the ingredients and allow participants to self-organize dinner preparation (which means some of you would volunteer to cook for the group). Upon registration, we survey the group to find out what is the preferred option.
What to Pack
You are welcome to bring your own tools if you wish to. But we will have all the necessary tools on site—as well as work gloves, protective eyewear, and hard hats. If possible, bring steel-toe boots – as that's the safest footwear for any workshop. If not, please bring the sturdiest boots/shoes you have.
This being Missouri, the weather is highly unpredictable. It could be hot, it could be cold, it could rain – often all 3 on the same day. Bring clothes for all eventualities and weather. It can also get quite muddy when it rains, so sturdy boots are recommended.
Please also bring a sleeping bag and a bath towel. If you're staying in the HabLab, we have fitted sheets, pillows and pillow cases available – but you may want to bring your own pillow if that's something that is important to you. If you're camping, please pack everything you'd normally pack for a camping trip.
REGISTRATION
Full 5-Day Workshop
Early Bird* Registration Fee: $600
Regular Registration Fee: $750
Session 1 (Structure & Ponds)
Early Bird* Registration Fee: $350
Regular Registration Fee: $450
Session 2 (Biological Systems)
Early Bird* Registration Fee: $250
Regular Registration Fee: $300
Single Day (Choose any day)
Early Bird Registration Fee: $120
Regular Registration Fee: $150
*Early Bird Admission ends on Friday, October 14, at 7 PM CST USA time.
Sponsor another participant: Sponsor $350 (session 1), $250 (session 2) or $600 (full 5-day workshop) to fund attendance of someone who is on the waiting list for financial assistance by making a donation.
Work Exchange: If you're a student or if the workshop fee constitutes hardship, we can consider a work exchange arrangement. In the WEP, you pay a deeply discounted fee in exchange for helping us with site work prior to the workshop. Email us for details: info at openbuildinginstitute dot org
Group Rate: If you can bring a group of 3 or more people including you – we can give you a discount. Email us for details: info at openbuildinginstitute dot org
True Fans of OSE: As supporting members of OSE, True Fans who have been part of the program for 3 months or more receive a 25% discount on all of our workshops – on top of the discounts above. You can sign up as a True Fan now to become eligible for the True Fans discount on future workshops.
Workshop fee includes workshop tuition only. See information above for transportation, meals and accommodation.
Payment Options: PayPal, Credit Card, Dwolla, Bitcoin, Check, Money Order, or Cash
Registration for the choices above is found on Eventbrite, but Eventbrite accepts only PayPal or Credit Card. If you would like to pay by other means you can select that option at Eventbrite, but then you have to submit your payment independently of Eventbrite. We accept Dwolla, Bitcoin, Check, Money Order, or Cash. Your registration is complete upon receipt of payment.
Dwolla charges lower transaction fees than PayPal. If you are paying by Dwolla, register at Eventbrite and select the Dwolla option, then pay independently via Dwolla (Dwolla is not currently integrated into Eventbrite). Use Open Source Ecology or ops@opensourceecology.org as the Dwolla recipient. Bitcoin is a decentralized payment system. You can pay via a bitcoin amount translated by the current bitcoin exchange rate on the day that you register. OSE's Bitcoin Address is 166yC48RakrZdtsBj36vY9q29CpzknHbxY. If you are paying by check, please make checks payable to Open Source Ecology. Our mailing address is OSE, 909 SW Willow Rd, Maysville, MO 64469. For mailings, please write "Aquaponics Workshop" along with number of days on your instrument of payment.
Cancellation Policy
If you need to cancel for any reason, we will be happy to (a) transfer you credit towards another workshop in the future; (b) substitute the name on your ticket and have a friend take your place.
Registration on Eventbrite
Please use the the Eventbrite form below to pay with PayPal/credit card. Eventbrite charges a 6% fee on top of the ticket price.