Seed Eco-Home Workshop
November 4-8, 2016 | Factor e Farm – Maysville, MO (USA)
In this is a 5-day workshop we will build a modular seed-home (the core of an expandable home) loaded with ecological features. If you are interested in natural home building or extreme efficiency of effort towards manufacturing, you will learn first hand how to take your home or project to the next level of ownership. Workshop includes 5 days of hands-on immersive building, lectures by invited subject matter experts, discussions, and exploration of entrepreneurship opportunities.
This workshop is intended for everyone who is interested in exploring the rapid building of environmentally-friendly homes (no previous building experience required). Blending modular wood panels with Compressed Earth Block construction, our goal is to demonstrate that quality housing can be built with multi-purpose flexibility using module-based designs and parallel building for optimizing design evolution. Our goal is reducing the duration of construction by a factor of 20 compared to industry standards, at ⅓ the cost of conventional housing. This design process involves a rapid parallel swarm workflow with a large team using simple-to-follow documentation created with Agile and Waterfall methods prior to build.
Eco-Features
With 3000W of PV Panels, the house is completely self-sufficient on energy. —Feasibility Notes on PV
What happens when the sun doesn't shine? The standard feature is a grid-tie inverter, which also pushes power back to the grid in the day. —Feasibility Notes on Grid Tie Inverter
What about power generation at night? A 100 W Thermoelectric Generator (TEG) is included. This device converts heat into electricity, so you can generate power from a pellet stove. We are designing our pellet heating stove to function both as a space heater and power generator. With Superefficient LED Lighting (3W per bulb), and a Super-efficient Refrigerator that uses only 8W of power – that is plenty of power to run your computer and house if you are eco-conscious. — Feasibility Notes on TEG Power
The modular hydronic stove features a Pellet Burner integrated with heat exchangers for a Hydronic Heating System. This heating system provides both Household Hot Water, and hot water for the In-floor Hydronic Heating. In-floor heat is a luxurious comfort while being straightforward to install when open source plans are available. After a 2-year test at our own home, we have made in-floor heating a standard feature in all of our construction, and have experience with hydronics both in our house and for heating ponds in the aquaponic greenhouse. —Feasibility of a Pellet Hydronic Stove
Two Compressed Earth Blocks (CEB) wall and floor sections act as thermal mass for passive solar heating. The thermal mass of CEBs is effective in keeping the house cooler in summer, and it retains heat longer in winter. The CEBs and solar capture contribute to the house's Passive Solar Design – which also includes passive cross-ventilation through the house.
The system also includes Rooftop Rainwater Collection, where every inch of water provides 150 gallons of rainwater for a 16'x16′ roof. We are also using a Super Efficient Shower Head by Bricor, for 3/4 gallon per minute water usage. Bathroom and kitchen fixtures consist of Modular Plumbing Panels. These are essentially your standard utility – sink, shower, or toilet – built on a self-contained pedestal, which contains the plumbing. The modular plumbing panels have a simple quick connectors for water in and water out – and as such – can be build as modules and put into place readily – without having to do the entire plumbing as a previous step.
To purify the water, we are using a filtration system consisting of a Sand Filter, a Charcoal Filter, and the world's first open source Ozonator as the final disinfectant stage for potable water, instead of halogens like chlorine. 90% of the world's purified water is obtained by ozonation, so we'd like to bring the USA up to speed in this respect. The design also calls for a small pond, used for irrigation or or to supplement rainwater collection.
The wastewater system converts organic wastes into biogas using a home scale Biogas Digester. This provides 100% of the house cooking gas, using a cooktop. We are using a separating flush toilet, where the solids flow into the biodigester, and the liquids and other gray-water go into a Gray-water Garden/Gravel Soak Pit. A sink grinder pulverizes organic wastes for quicker digestion.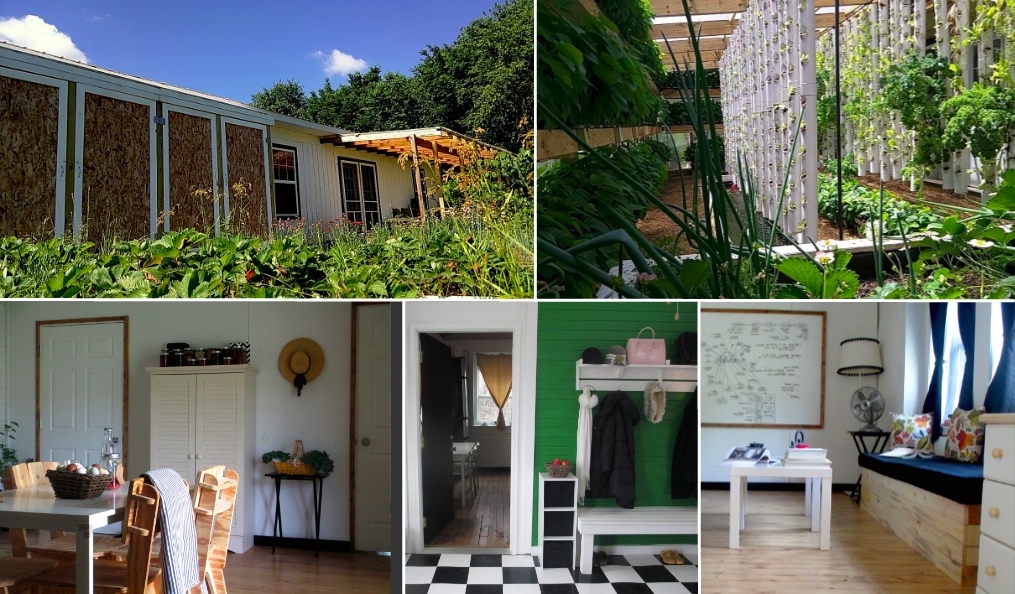 This workshop will be the first in a two-step development process of an affordable, ecological starter home. The second workshop – during which we will build a 700 sq ft home – will take place in the Spring of 2017.
There are 3 tracks offered in this workshop:
Full Workshop (Nov 4-8): Structure (walls and roof) + Utilities
Session 1 (Nov 4-6): Structure
Session 2 (Nov 7-8): Utilities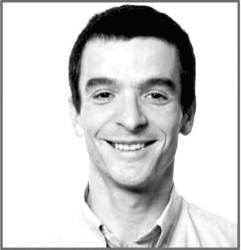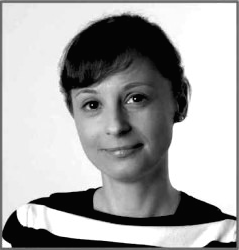 Marcin Jakubowski – Marcin was trained as a fusion physicist. He left academia right after finishing his Ph.D. to start a farm – in Missouri. For the last 7 years, he has been working on the Global Village Construction Set – a set of enabling tools and machines for building regenerative infrastructures. Marcin is passionate about creating the Open Source Economy – a new operating system for Earth. See Marcin's bio.
Catarina Mota – Catarina is an open source advocate. She founded the Open Building Institute, co-founded Open Materials (do-it-yourself smart materials) and AltLab (Lisbon's hackerspace). Previously, she co-chaired the Open Hardware Summit 2012, served on the board of directors of the Open Source Hardware Association, taught as an adjunct faculty member at ITP-NYU, and was a fellow of the National Science and Technology Foundation of Portugal. Catarina holds a Ph.D. in communication sciences and her research work focuses on the social impact of open and collaborative practices for the development of technologies. She is a founding member the Open Source Hardware Association and a TED fellow.
LEARNING OUTCOMES
Introduction to the Open Building Institute and Open Source Ecology
Open source development
Social production
Modular systems
Incremental housing
Modular House Design & Build
How to design and build a modular house
Passive solar design, heating, lighting, and ventilation
Insulation and air-tightness
Construction
Understanding and applying safe use of construction tools
Basic construction skills and framing
Modular panel construction
Producing and laying CEBs
Utilities
Installing, connecting and using photovoltaic panels (with grid-tie inverter)
Making and installing a hydronic heating system (open source stove with pellet burner, control panel, and in-floor heating)
Making and installing a thermoelectric generator (experimental, version 0.1)
Making a super-efficient refrigerator with open source electronics
Designing and making a rooftop rain water collection system (w/ first flush diverter and rainwater cistern)
Making a water filtration system (experimental, version 0.1)
Making a biogas digester (experimental, version 0.1)
Building and installing modular plumbing panels (experimental, version 0.1)
SCHEDULE
Please note that the schedule is tentative and subject to change.
Typical Daily Schedule
8am – 9am: Discussion and introduction to the day's activities
9am-Noon: Hands-on skills training + Morning build session
Noon: Lunch
1-5 pm: Afternoon build session
6 pm: Dinner
6:30-8:30 PM: Evening Lecture/presentation (TBA)
Build Schedule
Friday: Walls: brick laying; wall modules build and installation.
Saturday: Roof: roof modules build and installation.
Sunday: Plumbing: hydronic heating system; rooftop rainwater collection; modular plumbing.
Monday: Bio-gas digester; water filtration; hydronic pellet stove.
Tuesday: Electric: photovoltaic system; thermoelectric generator; super-efficient fridge. Finishing: interior and exterior finishing.
LOGISTICS
Workshop fee includes workshop tuition only.
UPDATE: The HabLab is now full for this workshop.
Accommodations
Participants may secure a hotel in Cameron, Missouri (15 miles away). Please note that there is no public transportation between Cameron and Factor e Farm and that we cannot pick you up or drop you off on a daily basis during the workshop. Car rentals are available at the KCI airport.
We have 18 spots for participants who want to stay at the HabLab—our shared-room dorm. There is no extra cost for staying at the dorm and spots are filled on a "first come, first served" basis. Please note that this is a very rudimentary earth building and our accommodations are rough. The dorm rooms may be noisy due to late night conversations by participants. Factor e Farm is an experimental facility that is permanently under construction, so please gauge your expectations accordingly. If you want a more comfortable stay, we recommend that you stay in a hotel.
We also have primitive camping on site which includes a composting toilet. Showers and a bathroom are located in the HabLab and there is a kitchen for basic food preparation.
Transportation
The nearest airport is Kansas City International (MCI), about 1:15 hours away from Factor e Farm. FeF is located in a rural zone and there is no public transportation of any kind in the area. We can pick you up from the airport the day before the workshop and drop you off the day after. Car rentals are available at the KCI airport, if you'd rather not wait for pick up.
Since the round trip to the airport is 2:30 hours, we will pick up participants in groups. For example, if we have one flight arriving at 2 pm, another at 3 pm and another at 4pm, we'll pick up the whole group at 4 pm. The same applies to drop-offs the day after the workshop. The MCI airport is tiny and there isn't much to do there, but it has a few restaurants/cafes and quiet areas to rest.
To the extent that it's possible, we request that you try to schedule your flight arrival and departure times between mid morning and late afternoon. Everyone on site will be working hard and very early/late pick-ups and drop-offs can be quite challenging for an already sleep-deprived crew.
Meals
OBI and OSE will provide continental breakfast and dinner. For lunch, bring your own or bring some to share.
We will also try to provide fresh, organic vegetables from our farm. However, this may not be available at all times of the year as it depends largely on crop cycles and season.
We will organize trips to Cameron's food store (a Walmart) or you can coordinate with other participants to go on your own. There is also a small grocery store in Maysville, which is a short bike-ride away from FeF.
We typically have dinner catered by local restaurants. However, since we're in an isolated area, the number of restaurants available and the quality of the food may not be what you're used to. There are only 3 restaurants in the area that do catering: a Mexican restaurant, a Chinese restaurant, and a Subway. Another option is for us to provide the ingredients and allow participants to self-organize dinner preparation (which means some of you would volunteer to cook for the group). Upon registration, we survey the group to find out what is the preferred option.
What to Pack
You are welcome to bring your own tools if you wish to. But we will have all the necessary tools on site—as well as work gloves, protective eyewear, and hard hats. If possible, bring steel-toe boots – as that's the safest footwear for any workshop. If not, please bring the sturdiest boots/shoes you have.
This being Missouri, the weather is highly unpredictable. It could be hot, it could be cold, it could rain – often all 3 on the same day. Bring clothes for all eventualities and weather. It can also get quite muddy when it rains, so sturdy boots are recommended.
Please also bring a sleeping bag and a bath towel. If you're staying in the HabLab, we have fitted sheets, pillows and pillow cases available – but you may want to bring your own pillow if that's something that is important to you. If you're camping, please pack everything you'd normally pack for a camping trip.
REGISTRATION
Full 5-Day Workshop
Early Bird* Registration Fee: $600
Regular Registration Fee: $750
Session 1 (Structure)
Early Bird* Registration Fee: $350
Regular Registration Fee: $450
Session 2 (Utilities & Finishing)
Early Bird* Registration Fee: $250
Regular Registration Fee: $300
Single Day (Choose any day)
Early Bird Registration Fee: $120
Regular Registration Fee: $150
*Early Bird Admission ends on Friday, October 14, at 7 PM CST USA time.
Sponsor another participant: Sponsor $250 (session 1), $350 (session 2) or $600 (full 5-day workshop) to fund attendance of someone who is on the waiting list for financial assistance by making a donation.
Work Exchange: If you're a student or if the workshop fee constitutes hardship, we can consider a work exchange arrangement. In the WEP, you pay a deeply discounted fee in exchange for helping us with site work prior to the workshop. Email us for details: info at openbuildinginstitute dot org
Group Rate: If you can bring a group of 3 or more people including you – we can give you a discount. Email us for details: info at openbuildinginstitute dot org
True Fans of OSE: As supporting members of OSE, True Fans who have been part of the program for 3 months or more receive a 25% discount on all of our workshops–on top of the discounts above. You can sign up as a True Fan now to become eligible for the True Fans discount on future workshops.
Workshop fee includes workshop tuition only. See information above for transportation, meals and accommodation.
Payment Options: PayPal, Credit Card, Dwolla, Bitcoin, Check, Money Order, or Cash
Registration for the choices above is found on Eventbrite, but Eventbrite accepts only PayPal or Credit Card. If you would like to pay by other means you can select that option at Eventbrite, but then you have to submit your payment independently of Eventbrite. We accept Dwolla, Bitcoin, Check, Money Order, or Cash. Your registration is complete upon receipt of payment.
Dwolla charges lower transaction fees than PayPal. If you are paying by Dwolla, register at Eventbrite and select the Dwolla option, then pay independently via Dwolla (Dwolla is not currently integrated into Eventbrite). Use Open Source Ecology or ops@opensourceecology.org as the Dwolla recipient. Bitcoin is a decentralized payment system. You can pay via a bitcoin amount translated by the current bitcoin exchange rate on the day that you register. OSE's Bitcoin Address is 166yC48RakrZdtsBj36vY9q29CpzknHbxY. If you are paying by check, please make checks payable to Open Source Ecology. Our mailing address is OSE, 909 SW Willow Rd, Maysville, MO 64469. For mailings, please write "Eco-home Workshop" along with number of days on your instrument of payment.
Cancellation Policy
If you need to cancel for any reason, we will be happy to (a) transfer you credit towards another workshop in the future; (b) substitute the name on your ticket and have a friend take your place.
Registration on Eventbrite
Please use the the Eventbrite form below to pay with PayPal/credit card. Eventbrite charges a 6% fee on top of the ticket price.